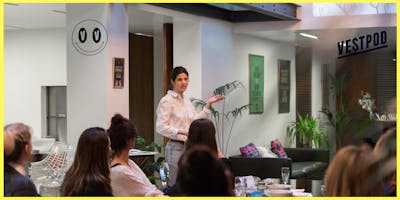 Event Information
You are welcome to attend GET STARTED: INVESTING! The Female Only Workshop Night Event
18 Finsbury Square
London
England
EC2A 1AH
GB
West Africa Money now list this event called GET STARTED: INVESTING! The Female Only Workshop Night which is taking place on .  Our mission is Money, Business And Investments to help you in becoming successful.
You're invited to my workshop on investing for beginners! 
I'll share all the tips you need to know to get started investing.
Monday 9th December 6:30pm at Huckletree Shoreditch.
This talk is for you if you would like practical tips on:
What do I need to know before I start investing money?

Why are you investing money: goals vs. investment choices?

Why is it important to invest: inflation and compound interest?

Understand your tolerance for risk and diversification

Understand ISAs vs. pensions vs. investment accounts

Apps, website and useful resources

How to get started?
Money can be very personal and emotional, so let's start the conversation in a chilled, low-key environment. No lecturing, no selling. Just talking and sharing ideas. It doesn't matter how much you earn.
Vestpod is your money tribe, a safe space to talk about money and feel good about it. My goal is to support you to build better money habits, learn about finances and connect with like-minded people. Good vibes and light-bites provided (small sandwiches, fruits, juices)!
We can't wait to see you! 
Thank you,

***Refund policy: Attendees can receive refunds up to 7 days before your event start date. Tickets are limited and workshops often sold out so please help me make sure the maximum number of guests can attend!***
I am the founder and CEO of Vestpod. Formerly working in private equity, I launched Vestpod to change the conversation about money and empower women financially. I started my career at Lehman Brothers where I worked as an analyst in private equity merchant banking. Reflecting on my years working in finance, I realized I was not saving or investing enough and could not find the support to do so. I then decided to launch Vestpod for women - as a way to provide education and a community for women to start breaking the taboo around money. Vestpod is a digital platform with a popular weekly newsletter as well as personal finance workshops and networking events. You can find Vestpod at: http://www.vestpod.com/
About my first book: You'Re Not Broke, You'Re Pre-Rich. Never go out the week before payday? Have less than £1,000 saved? Does this sound all too familiar? If so, it's time to take back control of your bank balance. One out of three millennials today will never be able to buy their own house. Does it have to be like this? You're Not Broke You're Pre-Rich will tell you that it really doesn't; you can have your avocado on toast and stop renting and start saving too.
This essential handbook will help debunk the financial jargon and break the money taboo. Packed with actionable tips and no-nonsense practical advice, You're Not Broke You're Pre-Rich will teach you how to make your savings work for you, how you could invest your money, why you need to understand your pension and why your financial health is just as important as your mental and physical health.
Available on Amazon: https://www.amazon.co.uk/Youre-not-broke-pre-rich/dp/1788401417/
Disclaimer: We are not certified financial advisers! The content of the event and the articles made available on Vestpod are provided for information and educational purposes only and do not constitute financial advice. You are advised to consult with a financial advisor for advice on your specific circumstances. Read our Disclaimer here.
Your Venue Location On Google Map
Your Google zip or post code look up is

EC2A 1AH
Find more on Eventbite.