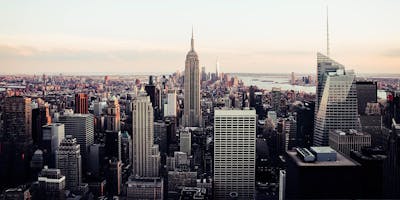 Event Information
You are welcome to attend Go To Market USA 2020 - US Expansion Planning Workshop Event
42-46 Princelet Street
London
England
E1 5LP
GB
West Africa Money now list this event called Go To Market USA 2020 - US Expansion Planning Workshop which is taking place on .  Our mission is Money, Business And Investments to help you in becoming successful.
Please sign up to book a slot:
US Expansion Planning Workshop - 11 December 2019
WITH - US economic growth continuing at 2.1% in 2020 and other economies stagnant or slowing, NOW - is the time to plan next year's US Go-to-Market strategy!
Ensure - your US expansion plans for 2020 are robust and watertight in critical areas like, Market Research, Business Development, Tax, Accounting, Legal, HR Logistics, Warehousing and Funding.

Connect - to State representatives from - New York, Illinois, California, Arizona, Florida, Maryland, Georgia and Ohio to understand and engage on localised incentives, tax-breaks, grants and business networks.

Attend - a FREE 1-2-1 Drop-in-Workshop at Fora Spitalfields, London on 11th December and meet in-country experts, including:

The format:

A series of 1-2-1 consultations with the experts in the room who will give you personalised advice and guidance around your specific needs and circumstances.

To facilitate this, the organisers will contact you in advance of the workshop to capture your needs so that the appropriate 1-2-1 mentoring sessions can be organised.

Please note, attendance is subject to the approval of the organisers who will contact you after you have registered.

Who should attend:

CEOs, founders and senior managers of digital and tech scale-ups looking to expand internationally in the next 3 to 6 months and with turnover in the range £2m to £50m.

Timing:

Workshops run in two-hour slots throughout the day and are organised so that you have a series of one-to-one consultations with select experts relevant to your business needs and international expansion plans. There is also opportunity for peer to peer networking.

About GTM Global:

GTM Global connects UK scale-up brands in digital and tech to a designated panel of experts from government, trade bodies and commercial partners to provide on-going advice and guidance on go to market strategy and international expansion planning.

What to expect from the GTM Workshop Programme:

This workshop is part of the GTM programme which supports mid-market tech/digital companies on their international expansion journeys. By participating in the programme you can expect a mix of the following:

Advice & guidance from experts in international trade
Export readiness audits & market research reports
Access to a network of in-country specialists & trade partners
Go-to-market strategy development & market expansion planning
Compliance, regulatory & risk management planning 
In-country distribution, sales & business development services 
Access to overseas EDOs, accelerator programs & government support
Funding via an international network of investors & VCs
Curated promotions & offers for businesses transacting overseas

About Fora:

Fora: plural of Forum. A place where great minds meet and work. A space to be brilliant. Fora is re-imagining the office experience with beautiful, professional and flexible work-spaces across Central London and Reading. The difference is hotel-like hospitality and private members' club style service.

Fora has taken the best of co-working, serviced offices, fine hotels and hospitality and added a dash of design and architectural practice. From freelancers to international enterprises, the company's aim is to help you unlock your best work, whatever your size. 

Discover vibrant work-spaces that really work, designed to drive productivity, inspiration, and collaboration.

About Avalara:

Avalara is the world's foremost provider of indirect tax compliance solutions. Using a combination of software and services Avalara provide comprehensive solutions to manage US sales tax, European VAT and global sales tax for companies of all sizes. Headquartered in Seattle, USA Avalara began life as a software to manage the complexities of calculating US sales tax. 15 years and 1500 employees across 4 continents later, Avalara now making huge strides towards our goal of being part of every global transaction.

About Thorelli & Associates:

Thorelli & Associates offers over twenty years of experience in the legal representation of businesses and individuals with particular emphasis in assisting foreign interests in the United States. 

The firm provides an array of services, ranging from initial consultation regarding the impact of U.S. Federal and State laws on proposed activities to the purchase or sale of entire businesses. Having assisted many companies in the initial phase of their investment, the firm is experienced in providing strategic planning for long term success. 

Through well-established contacts, the firm recommends other professionals, such as accountants, bankers, management consultants, executive recruiters and insurers.

About International Management Solutions:

International Management Solutions, Inc. (IMS) is an accounting, tax and consulting firm dedicated to assisting European companies with setting up their businesses in the USA. IMS has offices in Chicago, Detroit, New York, Tucson, Richmond, Bordeaux and Brussels.

About OCO Global:

OCO is Department for International Trade's exclusive North American Business Development Partner. 

The company is a specialist consulting firm helping hundreds of companies break into new markets and grow internationally each year. It works with national agencies to support their Trade strategies, and private companies to further their export and international market entry plans, helping to identify the most attractive markets and customers to accelerate growth. 

OCO has a base in New York and Los Angeles with an extensive coast to coast State network, in-market knowledge and expertise, providing customers with access to a reliable ecosystem including in-market representation, local incorporation, suppliers and customers. 

About GFS:

Established in 2001, Global Freight Solutions (GFS) is the UK's premier parcel and carrier management company. The business has partnerships with the UK's top carriers and provides an enhanced delivery service through the use of proprietary GFS technology and a proactive customer care team.

GFS customers benefit from the most enhanced and innovative carrier experience available, along with the opportunity to reduce carrier and operational costs. The business also provides the option of having one, or many carriers, through a single despatch & tracking platform. In addition to this, GFS will manage your parcels through a single UK based pro-active customer care team. This provides a unique and unrivalled solution to manage all of your despatches, no matter how varied your profile.

GFS Specialties: Express Parcel Deliveries, Multi-Carrier, Pro-active Customer Care, Advanced IT solutions

About World First:

We're WorldFirst and we're expert at moving money around the world. As a fast growing FinTech business, we specialise in making foreign exchange simple, fast and fuss-free for people and businesses with global ambitions. We combine best in-class technology with award-winning customer service to give our clients a better way. We've helped over 120,000 people, small businesses and online sellers transfer over £60bn since we launched in 2004. Our clients never stop. And neither do we.

About Greater Phoenix Economic Council:

Established in 1989, the Greater Phoenix Economic Council (GPEC) actively works to attract and grow quality businesses and advocate for the competitiveness of Greater Phoenix. As the regional economic development organisation, GPEC works with 22-member communities, Maricopa County, more than 160 private investors, and various companies across the world who are expanding or relocating. 

Consistently ranked as a top national economic development organisation, GPEC's approach to connectivity extends beyond the fabric of the community. Greater Phoenix, also known as The Connected Place, is in a relentless pursuit to house more innovative and entrepreneurial technology-focused companies. In the past 30 years, GPEC has fuelled the regional economy by bringing more than 740 locates, creating more than 130,000 jobs, and contributing a capital investment of $14.8 billion.
Please sign up to book a slot:

US Expansion Planning Workshop - 11 December 2019
Your Venue Location On Google Map
Your Google zip or post code look up is

E1 5LP
Find more on Eventbite.