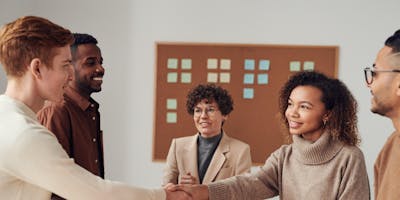 Event Information
You are welcome to attend HOW TO CLOSE SALES & SKY ROCKET YOUR PROFITS Event
18 Eastern Road
Romford
England
RM1 3PJ
GB
West Africa Money now list this event called HOW TO CLOSE SALES & SKY ROCKET YOUR PROFITS which is taking place on .  Our mission is Money, Business And Investments to help you in becoming successful.
Success in selling business solutions is dependent on collaborating with clients by using solid questioning and effective listening techniques. 
To fully develop these skills, you as a business owner must know when it's time to listen, when to dig deeper and how to maximise impact.  
With your ability to relate to the pain your potential customers are feeling, by understanding their 'Buyer's Journey' and by providing them with the right cure, you can ultimately close the sale, increase sales and boost your profits.
This workshop will help you plan, prepare and execute proposals and presentations that address customer concerns, reduce the number of objections you encounter and improve your batting average at closing the sale.
 Join us in this half day session where you will learn how to:
observe and understand your customers

handle customer service complaints

address pricing issues

handle other objections

identify buying signals

close the sale

adopt the right closing techniques
Outcomes
By the end of this workshop you will be able to:
recognise when a prospect is ready to buy
be prepared to present options and be willing to negotiate
identify top 15 activities that will make you successful at closing the sale
Who Should Attend: 
This workshop is suitable for all levels. You should attend this workshop if you have a role or business that requires you to sell.


---
Trainer Bio: Natalia Nicholson 
Natalia is a Digital Marketing Training Facilitator, Google Content Developer, and Business Coach. She has delivered impeccable digital marketing training workshops to help UK and international SMME's foster brand building, optimize users' experience, expand market share, and enhance ROI. Having established and built 8 successful businesses from ground up, she knows the importance of generating leads and turning those leads into loyal customers. She launched Straight Talk To Success Ltd, a UK-based company that is focused on providing coaching workshops and programmes that effectively suit the digital marketing needs of SMME's both locally and worldwide.
Follow Natalia on social media:
---
FAQs
Can I attend this event if I am not a Building Legacies Member?
Yes, if you are an SME registered business and have a London trading address, complete the registration form  and once we have received your order, we will contact you to finalise the registration process.
How many people from my organisation can attend the event?
2 maximum
Do you take photos at your events?
'Yes we do, as part of our marketing strategy, we regularly take photos during our events to use on our website, email newsletters, social media and other promotional materials. If you are not comfortable about being in our photos please specify in your order and remind us during the event so we do not include you.
Is there a cancellation charge?
No, however as we cover the full cost of running the event, we would appreciate 24 hours' notice or that you cancel your ticket 24 hours before the event, which will allow another business on our waiting list to take the space or for us to reduce our costs.
Your Venue Location On Google Map
Your Google zip or post code look up is

RM1 3PJ
Find more on Eventbite.