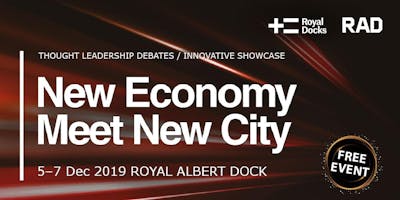 Event Information
New Economy, Meet New City Event Address
Altitude
14 Lascars Avenue
London
England
E16 2YP
GB
This event
West Africa Money now list this event called New Economy, Meet New City which is taking place on as our slogan is Money, Business And Investments
.
REGISTER FOR FREE
We are delighted to invite you to attend a major 3-day event we are staging in London's Royal Docks this December.

Called "New Economy, Meet New City", the event will be a celebration of innovation and creative ingenuity in tech, economics, urban design and transportation. We will be announcing our line-up of top thinkers and experts in these fields very shortly.

Produced in partnership with the Royal Docks Team and ABP Royal Albert Dock, the innovation celebration will take place on Thursday 5th and Friday 6th December, followed by a family day of activity on Saturday 7th December – all within the 'Altitude' building in the brand new Royal Albert Dock development - London's most dynamic revitalisation project, located close to London City Airport and the ExCeL exhibition centre. 

Included in the first day programme will be a series of thought-provoking keynote speeches, debates and interactive showcases on how technology is impacting on "The New Economy", while the second day will focus on the tech advances that will shape the future of how we will live in "Meet New City". The final day will include fun activities for the general public including a festive children's book fair, talks and book signings. 

Whether you are interested in gaining an insight into trends in the worlds of business and economics, in the future of London's transport and urban infrastructure, or if you simply want to network with like-minded professionals in this exciting part of East London, this will be an unmissable 3 days of debate and discussion.

Numbers will be limited so sign up now if you'd like to attend what promises to be an informative and entertaining event. Admission is free and you may register to attend individual or multiple event days. We look forward to seeing you there.
RAD.london | Twitter | LinkedIn | YouTube | Instagram

Confirmed Speakers so far include:
David Gerard Author of the news blog and book Attack of the 50 Foot Blockchain: Bitcoin, Blockchain, Ethereum & Smart Contracts, which was described by the New York Times as 'a sober riposte to all the upbeat forecasts about cryptocurrency!'.
Paul Mason Former Newsnight and Channel 4 Economics editor, and author of Postcapitalism and Clear Bright Future: A Radical Defence of the Human Being.

Nick Srnicek Lecturer in Digital Economy at King's College London. He is the author of Platform Capitalism (Polity, 2016), Inventing the Future (Verso, 2015 with Alex Williams). With Helen Hester, he is currently writing After Work: The Fight for Free Time (Verso, 2020).
Jamie Susskind Tech expert and author of Future Politics: Living Together in a World Transformed by Tech, which examines how digital technology will transform politics and society, including the world of work.
Linda Yueh Internationally renowned broadcaster and economist at Oxford University and London Business School.
More speakers to be confirmed.
Your Venue Location On Google Map
Your Google zip or post code look up is

E16 2YP
Find more on Eventbite.