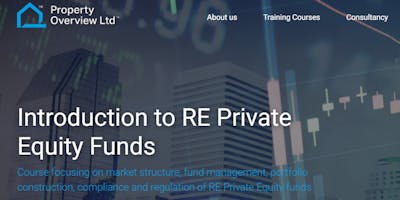 Event Information
Understanding Real Estate Private Equity Funds, London, 11 Oct. 2019 Event Address
London
England
EC3N 2NR
GB
This event called Understanding Real Estate Private Equity Funds, London, 11 Oct. 2019is taking place on
At West Africa Money our slogan is African Money Transfer, Currency And Exchange Rates
Understanding Real Estate Private Equity Funds
About:
1-day training course providing the attendee with a solid knowledge foundation of the European (unlisted) private equity real estate fund landscape.
The course consist of 4 modules starting with the European market structure of real estate private equity funds and their classifications, followed by a second module on fund management and portfolio construction. The third module focuses on performance and risk measurement. The fourth module gives an overview of European compliance & regulation related to RE Private Equity Funds.
Who should attend:
A 1-day course for those who amongst other work in or with private equity real estate funds in roles as diverse as research, acquisition, real estate analysis, property consultancy, fund management, data/systems, lawyers/legal, auditing and accountancy.  The course is also beneficial for those working for insurance companies, pension funds, SWFs, Family Offices, Banks and other investment companies, as well as service providers such as database and software providers keen to understand the nuts and bolts of the European real estate fund investment landscape. The course analyses the fund market across the UK and Continental Europe.
What you will learn:
• How fund and portfolio managers structure a real estate portfolio
• How to manage a real estate portfolio
• Understand regulatory requirements for investing across Europe
• Set up risk monitoring processes and practices
Taught by Dr. Nicole Lux from Cass Business School, author of the book "Assessing real estate risk – applied models, concepts, methods" and Senior Research Fellow for the UK Real Estate Lending Survey at Cass.
For full details - including course content - please visit the web page: https://www.propertyoverview.co.uk/training_courses/fundamentals-real-estate-private-equity-funds-investing/
Your Venue Location On Google Map
Your Google zip or post code look up is

EC3N 2NR
Find more on Eventbite.